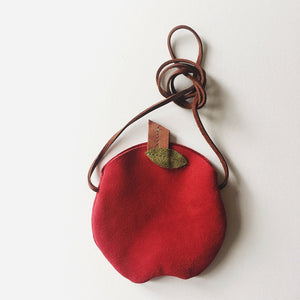 The Teeny Tiny Apple coin purse is making a return just in time for apple picking and back to school.
Handmade in Southern California.
--------------------------------
D E T A I L S: 
- Each Satchel is made of a True Apple Red Suede leather. Green Suede Leaf and Sienna Stem.
- Each Bag measures approx 5in in high & 4.25in in width
- 35in Leather Strap is suitable for Toddlers to wear as a crossbody bag. (1-4yr) 
- Natural Markings on the Leather is unique to each bag. Bag will age and distress with wear.