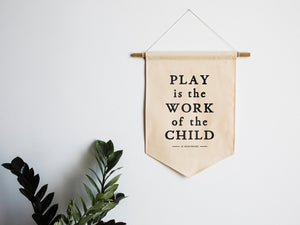 Height: 20 Inches; Width: 14 Inches
"Play Is The Work Of The Child" - M. Montessori

This modern banner is a lovely mix of neutral, natural materials - including canvas, oak wood, and cotton twine - with all materials sourced in the United States, sewn locally, and printed in-house by hand. A lovely reminder from Maria Montessori to slow down, play, and enjoy the magical essence of childhood. Perfect for a child's play room or a Montessori-style learning environment.

Each individual banner measures 14" wide by 20" tall from the top of the canvas to the bottom point.

Please feel free to send us a message with any questions!

All designs are original property of The Oyster's Pearl.