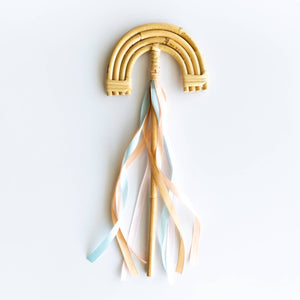 Let your little ones experience magic and endless adventures with our gorgeous rattan wands. This sweet and whimsical rainbow rattan wand would fit beautifully in a bedroom or imaginative play space. Just place one in the hand of a child and they will amaze you with the spells they conjure and the games they play. Each wand is handcrafted using natural rattan, and featured pale pink, cream, and blue ribbons. The length and weight are are made to suit little hands perfectly.
Material : rattan
Dimension : 14 x 35 cm / 5.5 x 13.8 inch
Available model : rainbow, star, moon, heart *Note that each rattan is unique with their natural colour and markings that come with beautiful ageing process.
——rattan magic wand kids nursery decor natural boho princess costume sustainable eco friendly wooden toys